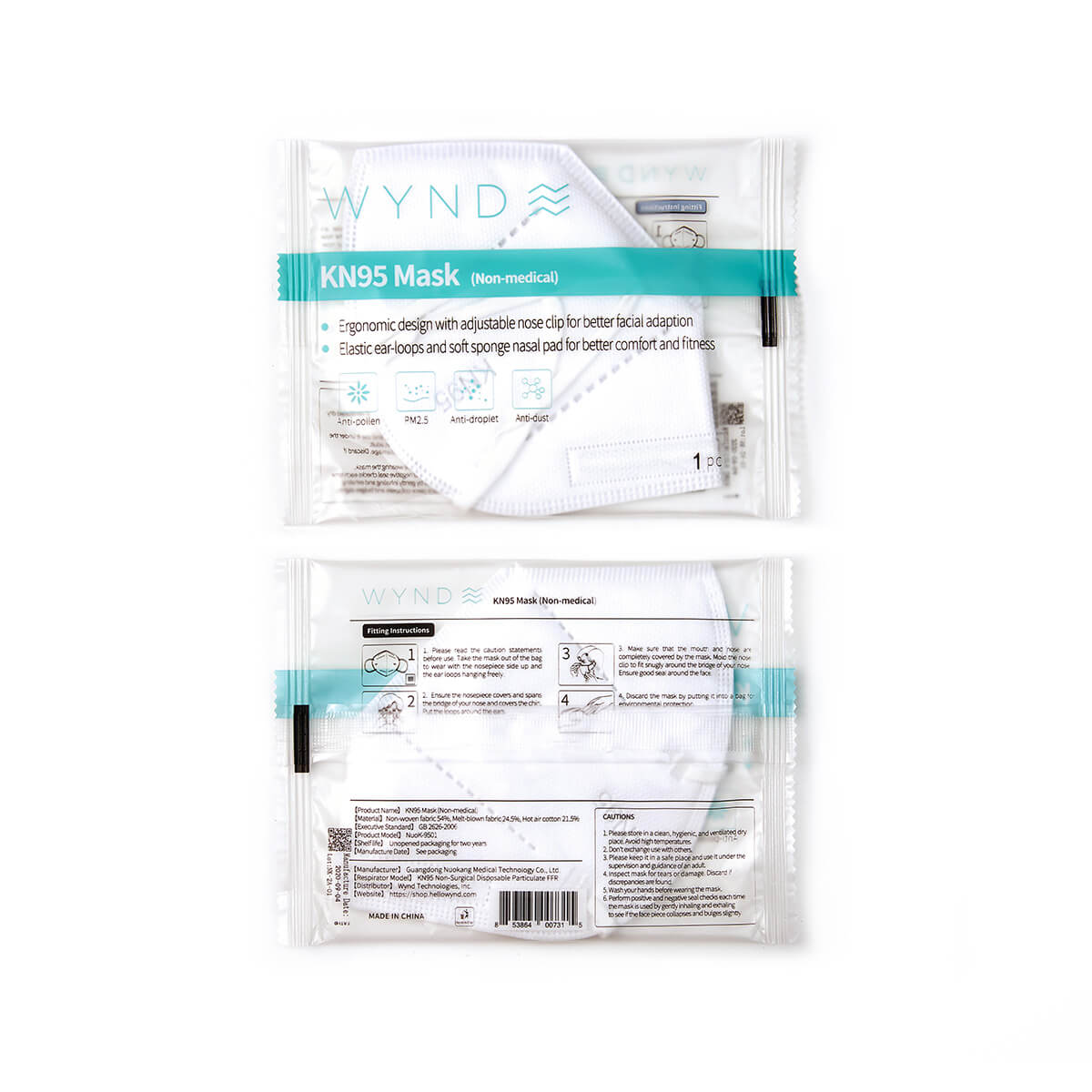 KN95 Masks - 10 Pack (FDA EUA list)
*BRAND NEW* KN95 Wynd masks provide 5-layer protection. Comfortable, breathable and lightweight. Masks have an ergonomic design with adjustable nose clip that provide a good fit and seal. 

The KN95 Face Mask can protect you from pollution particles, fine particles, dust, smog, pollen, and can help reduce the risk of bacteria and viral infections. Covered by FDA Emergency Use Authorization (EUA).
10 individually wrapped masks in one box.

Non-refundable due to health and hygienic reasons

KN95 Masks - 10 Pack (FDA EUA list)
KN95 MASK, SURGICAL MASK & CLOTH MASK
Understanding the difference
INTENDED USE AND PURPOSE
Helps protect others from you, especially if you're infected with no symptoms. Not fluid resistant
Fluid resistant and protects wearer from large droplets, splashes or sprays of others bodily fluid
Reduce wearer's exposure to airborne particles including small particle aerosols and large fluid droplets
LEAKAGE
Minimal leakage occurs when properly fitted
Leakage occurs around mask edges
Leakage occurs throughout cloth
USER LIMITATION
Disposable. Ideally discard after use
Disposable. Discard after each use
INTENDED USE AND PURPOSE
Helps protect others from you, especially if you're infected with no symptoms. Not fluid resistant
LEAKAGE
Minimal leakage occurs when properly fitted
USER LIMITATION
Disposable. Ideally discard after use
INTENDED USE AND PURPOSE
Fluid resistant and protects wearer from large droplets, splashes or sprays of others bodily fluid
LEAKAGE
Leakage occurs around mask edges
USER LIMITATION
Disposable. Discard after each use
INTENDED USE AND PURPOSE
Reduce wearer's exposure to airborne particles including small particle aerosols and large fluid droplets
LEAKAGE
Leakage occurs throughout cloth