Filters out 99.97% of Airborne Bacteria & Mold
Our medical grade filters are approved for use in US hospitals
Viruses, Bacteria & Mold
Airborne mold spores can exacerbate allergies, asthma and other respiratory diseases. Our filters have an embedded layer of silver that kills 99.97% of bacteria, viruses and mold spores on contact.
Other Airborne Particles we can filter...
Dust & Pet Dander
Pet dander can stay suspended in the air longer than dust and more easily sticks to furniture, bedding and clothing. Our filters trap dust and pet dander to help reduce pet dander induced asthma and allergies.
Allergens & Pollen
Severity of allergies varies from person to person and can range from minor irritation to anaphylaxis. Our filters remove allergens so you can breathe easy during allergy season.
Smog, Smoke & Pollution
Air pollution, even at low levels, has an impact on human health. Our filters remove fine particulate matter to help reduce your risk of pollution related health issues.
Lightweight & Portable
Bring it with you wherever you go
Restaurants
Wynd Plus is lightweight and portable, easy to carry to a Restaurant to purify the air around your table.
Office Desk
Whether you work from home, or commute to an office, Wynd Plus has a built in kickstand to direct purified air towards you while working.
On the Road
Spend a prolonged period of time driving on the road? Wynd Plus fits in a standard cup holder, and can purify the air in your cabin every 15 minutes.
Order Now
Lithium-ion battery holds an 8 hour charge
USB-C charging port hours to fully charge
Connects via Bluetooth to our free iOS and Android App
Lightweight & portable Less than 1 lbs
Patented Air Flow & Filtration Technology
The Wynd portable purifier air flow design was designed by a former NASA rocket turbine engineer. He used his airflow expertise to craft Wynd's patented fluid dynamics, and includes a low-turbulence, high-airflow system that keeps the device small while enabling it to clean a high volume of air - all without getting too noisy. The Research Triangle Institute tested our portable purifier in an average sized room (8ft x 10ft), and the results speak for themselves.
Wynd portable purifier can filter all the air in the entire room, once every 36 minutes.
LOW TURBULENCE
HIGH AIRFLOW
How to use WYND Plus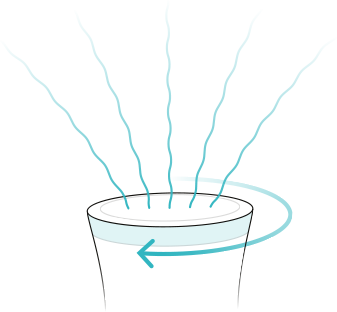 Step 1
Press the power button and turn the upper ring to
adjust airflow
Step 2
Open the kickstand and direct airflow towards you
Step 3
Turn on Auto mode, to automatically adjust airflow
based on your air quality score
Subscribe & Save On Filters
Subscribe and get a new filter automatically delivered to your door every 3 months for only $22 (Usually $29)
Discount on Replacement Filters
Free Shipping* on Filter Replacements
Free Extended Warranty on your Wynd Plus for
duration of subscription
Wynd Plus - Smart Personal Air Purifier with Sensor
Hassle Free Ordering
Free & Fast Shipping on all orders
100-day returns or exchanges
Full refund if not completely satisfied