Frequently Asked Questions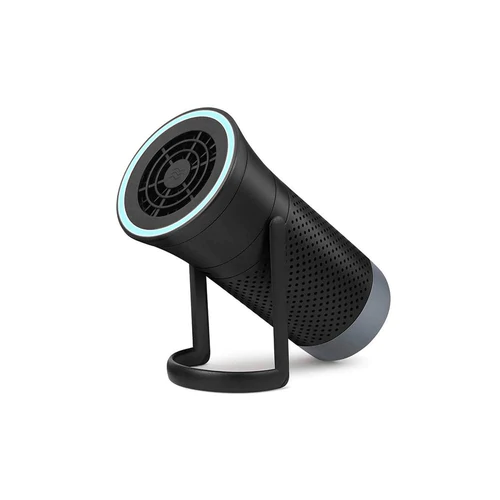 What is it capable of filtering?

Our portable purifiers are capable of filtering out dust, dander, smog, smoke, mold, germs, bacteria, and pollen.
How long does the Wynd Essential's Battery last with a charge?

When it's not plugged in, Wynd (the purifier and tracker combined) lasts for about 8 hours on normal use (continuously running at a medium purification level).
Is it safe to run the Essential for long periods of time while plugged in?

Yes, it is perfectly safe to continuously run your Essential while plugged in.
How long will the Wynd Air Quality Tracker's battery last?

When it's not docked into the purifier or plugged in, the Wynd Air Quality Tracker can last for over a week if it senses every hour.
What are your filters made out of?

The Wynd Essential's filter is made using medical-grade materials. The filters have an embedded antimicrobial layer with silver to keep it clean from microbes such as bacteria and mold (report of 99.9% bacteria removal can be found here). As air passes through this filter, the particulate pollutants are removed and any residual germs are killed off, and purified air flows out into your environment.
How long do the filters last?

The filter typically lasts for 3 months in a polluted environment (with an average AQI of 200).
How do I know when to replace my filters?

We can calculate the filter life for you through our app. By tracking how polluted the air is around the filter—as well as Wynd's airflow level and usage duration—we can tell you how used up the filter is and alert you when it's time to order a replacement. You can opt into subscribing to automatic replacement filter shipments.
What is Auto Mode and how does it work?

Auto Mode is the "set it and forget it" setting of the Essential. This mode will use the local AQI from your nearest government run air monitoring station to determine the air quality around you and adjust the fan speed of your purifier automatically according to the data that it receives from the station.
What is Night Mode and how do I enable it?

Placing your purifier in Night Mode will turn off its LED light ring so it does not keep you awake at night. To enable Night Mode, tap the "A" (Auto) button twice in quick succession.

You can also enable Night Mode in the app.
How do I replace my filters?

To replace your filter in your Essential, unscrew the bottom cap of the purifier and remove the old filter. Then place in your new filter and re-screw the cap.
Depending on purification level, Wynd ranges from 30 decibels (quiet rural area) to 55 decibels (a normal conversation).
Do I need to point the Essential at myself?

No. The Wynd Essential can be facing vertically and still create a clean air bubble around you. We recommend keeping Wynd within 3 - 6 feet of your head depending on purification level for maximum effectiveness while vertical.

If you tilt Wynd toward your face using the accompanying kickstand, the effective purification area range will increase in conjunction with purification level up to 8 feet.
Does the Essential emit ozone?
No, the Wynd Essential does not emit any ozone.
STILL HAVE QUESTIONS?

CONTACT US
Send us a question via the contact form or email us at support@hellowynd.com, and we will respond to you as soon as we can.
Send us a question via the contact form or email us at support@hellowynd.com, and we will respond to you as soon as we can.