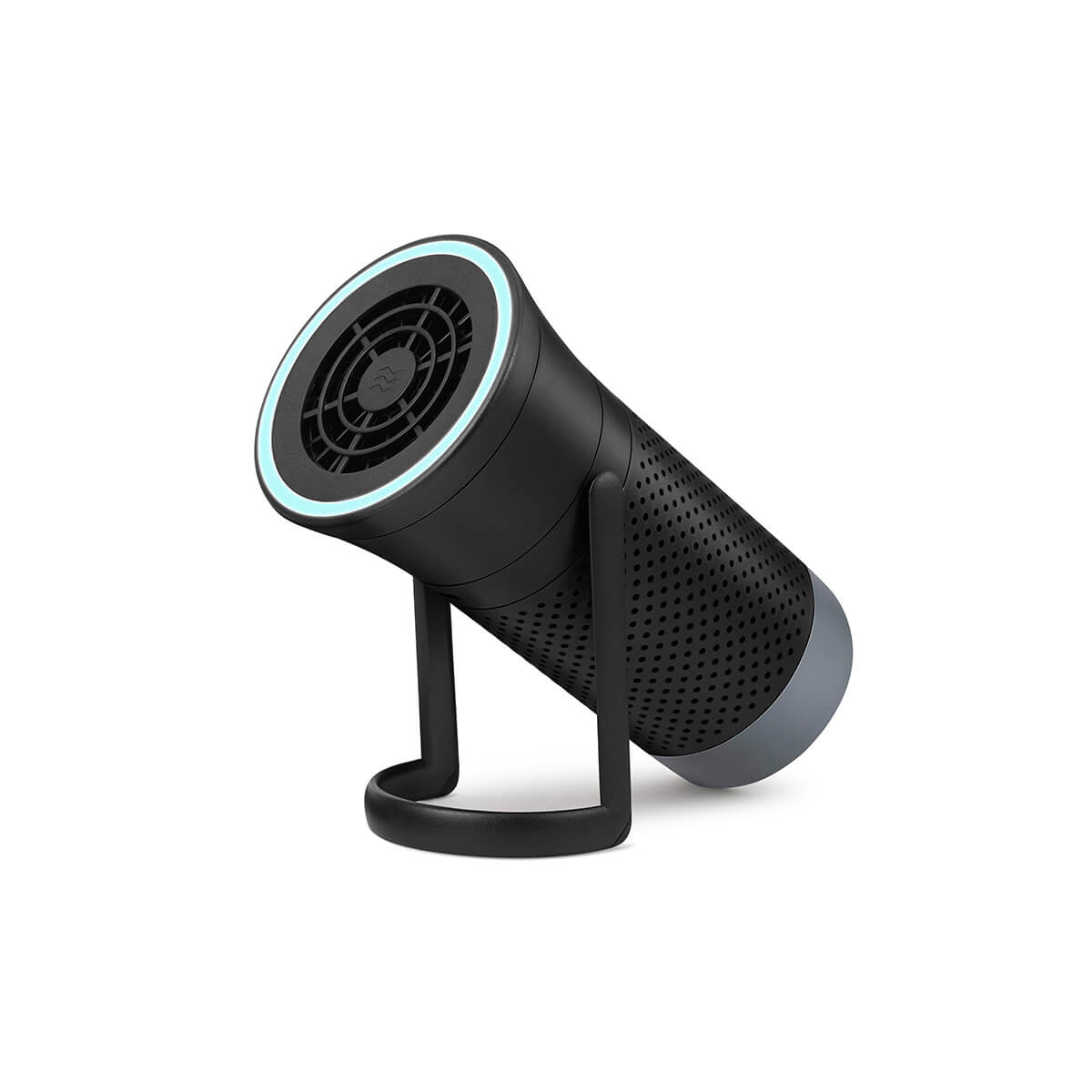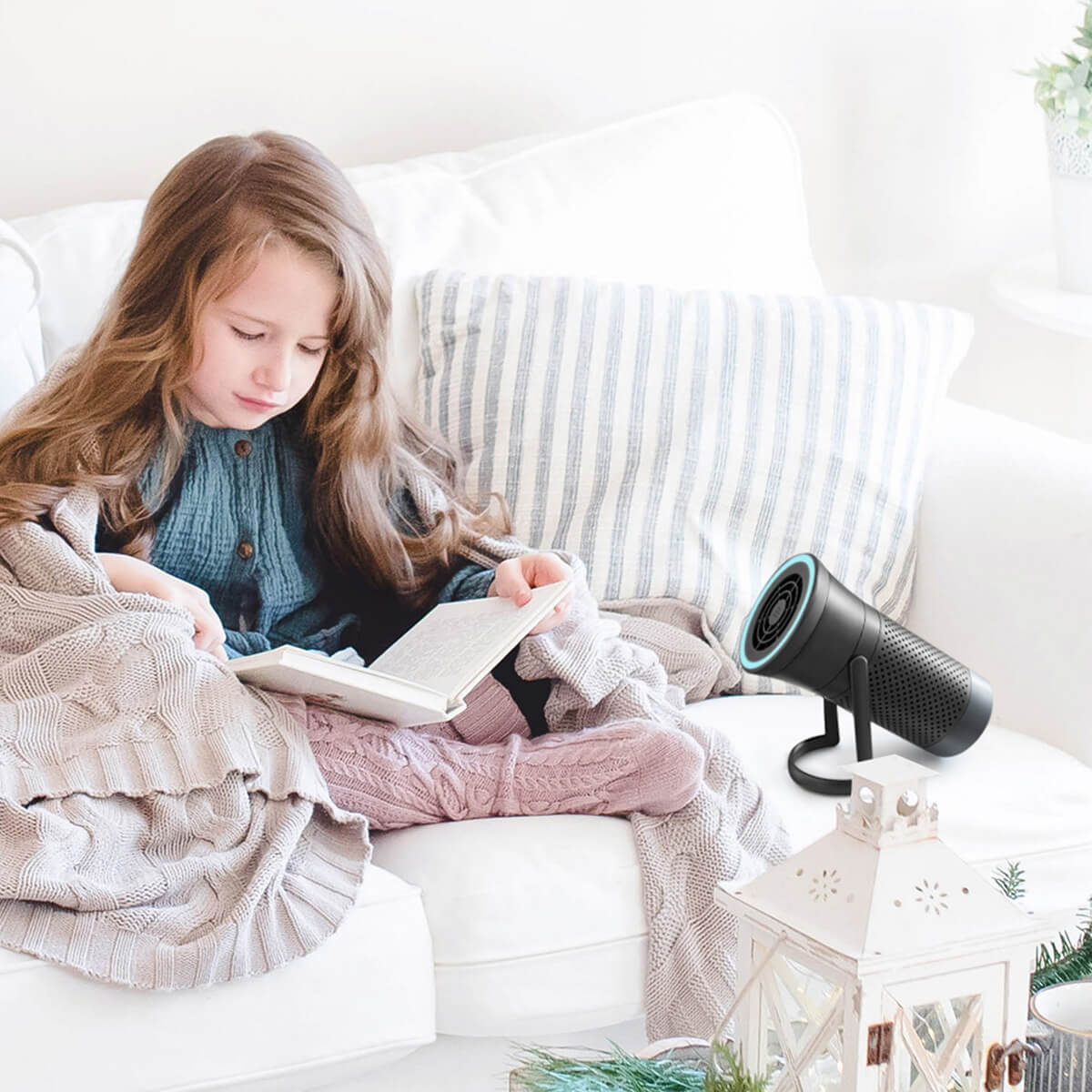 Wynd Essential - Smart Personal Air Purifier
Wynd Essential - Smart Personal Air Purifier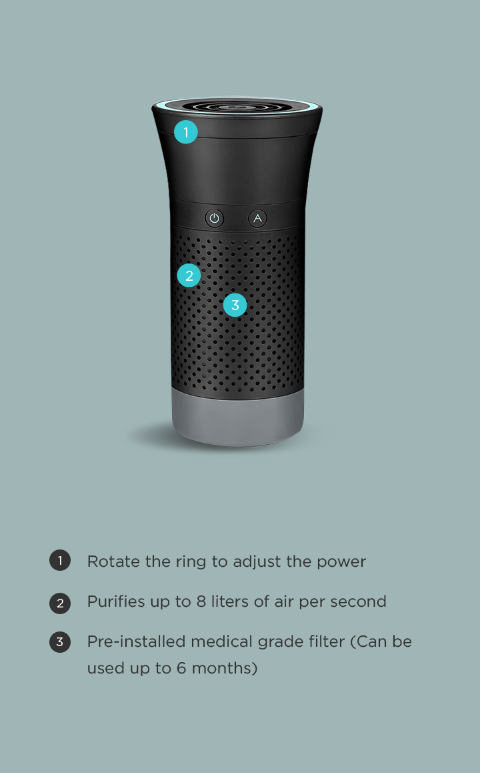 Breathe clean air no matter where life takes you.
It's as small as a water bottle and can fit in a cup-holder, so you can use it anywhere: airplane, car, office, small rooms, inside baby strollers and more.
Speed and power in the palm of your hand
Designed by engineers from NASA and MIT, Wynd air purifiers are powerful enough to remove 99% of pollutants in a car cabin in under 15 minutes. It can purity up to 8 liters of air per second.
We Filter The Bad Stuff In Your Air
Our medical grade filters are approved for use in US hospitals
Viruses, Bacteria & Mold

Airborne mold spores can exacerbate allergies, asthma and other respiratory diseases. Our filters have an embedded layer of silver that kills 99.97% of bacteria, viruses and mold spores on contact.

Dust & Pet Dander

Pet dander can stay suspended in the air longer than dust and more easily sticks to furniture, bedding and clothing. Our filters trap dust and pet dander to help reduce pet dander induced asthma and allergies.

Allergens & Pollen

Severity of allergies varies from person to person and can range from minor irritation to anaphylaxis. Our filters remove allergens so you can breathe easy during allergy season.

Smog, Smoke & Pollution

Air pollution, even at low levels, has an impact on human health. Our filters remove fine particulate matter to help reduce your risk of pollution related health issues.
Subscribe & Save On Filters
Subscribe and get a new filter automatically delivered to your door every 3 months for only $22 (Usually $29)
Discount on Replacement Filters
Free Shipping* on Filter Replacements
Patented Air Flow & Filtration Technology
The Wynd portable purifier air flow design was designed by a former NASA rocket turbine engineer. He used his airflow expertise to craft Wynd's patented fluid dynamics, and includes a low-turbulence, high-airflow system that keeps the device small while enabling it to clean a high volume of air - all without getting too noisy. The Research Triangle Institute tested our portable purifier in an average sized room (8ft x 10ft), and the results speak for themselves.
Wynd portable purifier can filter all the air in the entire room, once every 36 minutes.
LOW TURBULENCE
HIGH AIRFLOW
How to use WYND Essential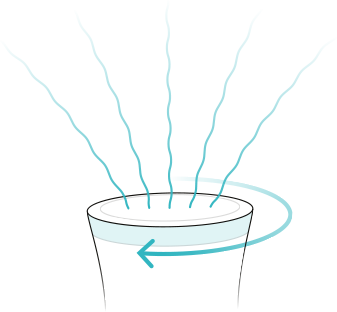 Step 1
Press the power button and turn the upper ring to
adjust airflow
Step 2
Open the kickstand and direct airflow towards you
Step 3
Turn on Auto mode, to automatically adjust airflow
based on your air quality score
The Wynd Home Purifier and V-Series HEPA filter are designed to remove hazardous pollutants and irritants, such as allergens, smoke, germs, dust, chemicals, VOCs, smog, industrial pollution, and pet dander.
The filter typically lasts for 3 months in a polluted environment (with an average AQI of 200).
Depending on purification level, Wynd ranges from 30 decibels (quiet rural area) to 55 decibels (a normal conversation).
When it's not plugged in, Wynd (the purifier and tracker combined) lasts for about 8 hours on normal use (continuously running at a medium purification level).
No. The Wynd Essential can be facing vertically and still create a clean air bubble around you. We recommend keeping Wynd within 3 - 6 feet of your head depending on purification level for maximum effectiveness while vertical.

If you tilt Wynd toward your face using the accompanying kickstand, the effective purification area range will increase in conjunction with purification level up to 8 feet.
Still have Questions?
We have an in house customer support team trained to make using and setting up your Wynd a breeze (no pun intended).