Sentry
The only device that protects your rental property from smoking and loud parties
What is Sentry?
Sentry is the world's first non-intrusive device that protects your property by reliably detecting recreational smoke (cigarette, cigar, marijuana) and unwanted noise.
Detects vape, cigarette, &
marijuana smoke
SMS, app, & e-mail
notifications
Stop Smokers Fast
The average smoking damage claim costs $500 per incident. Sentry airID™ technology detects cigarette, marijuana, cigar, and vape smoke with accuracy to prevent unwanted smoking before it causes damage.
Get Ahead of the Noise Complaint
Monitor noise to prevent damages, and guest complaints using industry-leading SiSonic™ MEMS technology. Only decibel detection, no recording. Receive alerts for sustained noise without violating the privacy of your guests.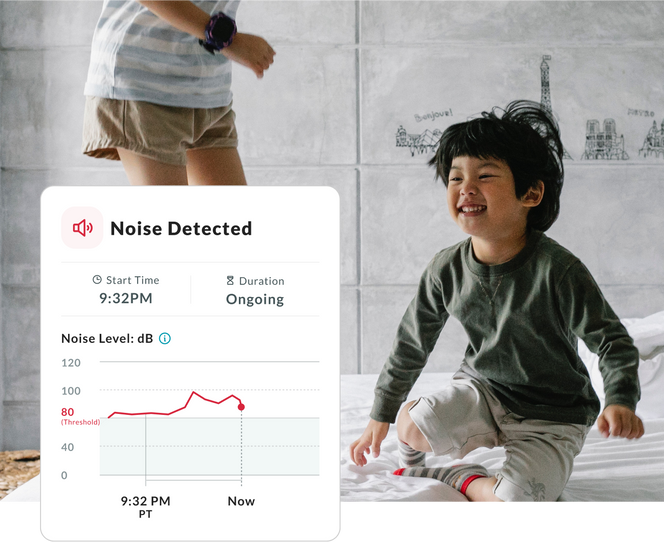 Tamper Protection and Alerts
Notification of internet disconnection
Notification of power disconnection
WYND Sentry: The ultimate smoke and noise detection for your property
Deterrent: decrease recreational smoking incidents and noise disturbances
Immediate intervention: receive immediate alerts when an incident occurs or device tampering
Incident reports: access comprehensive incident reports via Sentry app
airID Technology
We've invested 8 years of research & development to develop airID - a breakthrough technology that can accurately detect and identify air particles.

With airID, Sentry can provide real time insights into the quality of air and immediately inform homeowners of any potential smoking incidents.
Sentry Features
Smoke Detection
Sentry is a smoke detection* device that alerts users in real-time whenever someone is smoking. The device can detect cigarette, marijuana, and cigar smoke, and time-stamps the incident to provide proof. With the Live Monitoring feature, users will also be able to monitor the real-time PM2.5 levels of their property.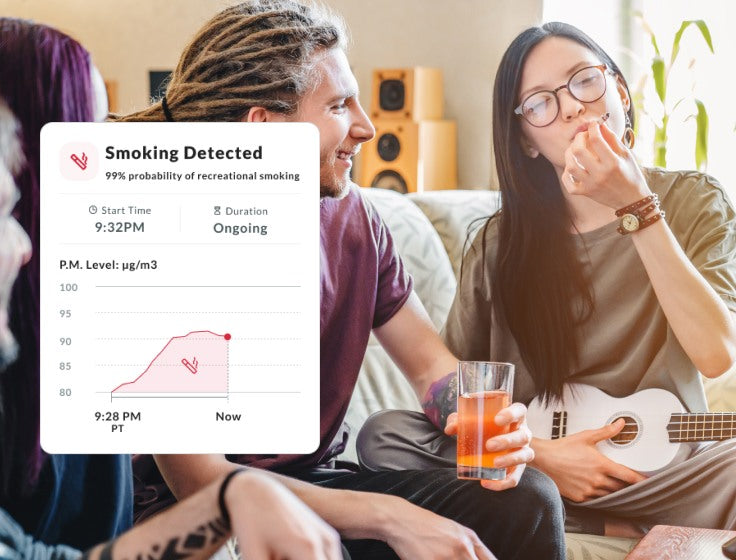 Noise Detection
Sentry detects noise levels and alerts users in real-time. The device's noise detection feature is designed to help users monitor and maintain a healthy acoustic environment in their rental properties, hotels, or any other indoor spaces.
Live Monitoring
WYND's Sentry now features real-time device monitoring to provide continuous monitoring and protection of indoor air quality. This new feature allows users to monitor the noise levels (in dB) and fine particulate matter (PM2.5) levels in real-time, helping them maintain a healthy indoor environment.
Incident Reports
Incident reports are designed to help users monitor and maintain the smoke and noise levels of their properties. Whenever Sentry detects an incident such as recreational smoke or excessive noise, it records the time and duration of the event, and generates an incident report.
Tamper Protection and Alerts
Sentry's tamper protection feature ensures continuous monitoring of your property. Users will receive alerts when the device is unplugged or loses internet connection, allowing them to take appropriate action.
Log into multiple devices
The Wynd Sentry app can be logged into several devices for one account. This way, anyone that has the account logged into the app will have access to Live Monitoring, Incident Reports, and Device settings.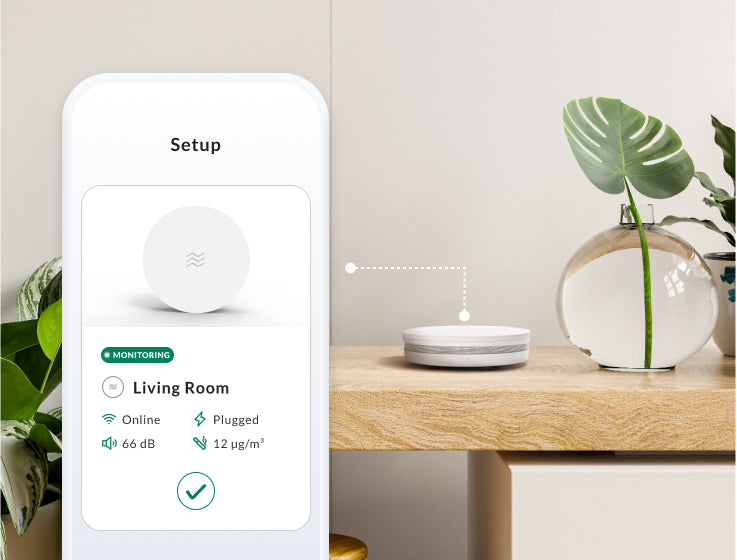 Streamline your operations
Property managers can ensure the safety and security of their residents and the property itself by deploying Sentry devices strategically throughout your property.

Sentry's incident detection capabilities notify property managers instantly if smoking or loud noise disturbances are detected, enabling swift response to potential issues or emergencies. Sentry's detailed incident reports offer a comprehensive overview of events, which can be used for documentation, liability protection, and insurance purposes.
Stay in control, anywhere you go
For property managers seeking to enhance tenant satisfaction, Sentry's advanced features contribute to creating a safe environment, improving resident retention, and attracting new tenants. Additionally, the remote monitoring capabilities of Sentry allow property managers to keep an eye on their properties even when off-site, enabling them to respond promptly to any situation.
Want more information?
We can have a member of our team reach out to you.