Sentry
Secure your rental property with the only monitor for recreational smoking, noise, and more

Benefits of Sentry
Deterrent
Stop smoking and parties before they happen
Immediate alerts
Instant alerts can save $1,600 per incident and improve guest satisfaction
Superfast resolution
Speed up resolution time and success rate of claims by 2x
Unlock the potential of your
STR hosting business with Sentry
Smoke Detection
Sentry is a smoke detection device that alerts users in real-time whenever someone is smoking. The device can detect cigarette, marijuana, cigar, and vape smoke, and time-stamps the incident to provide proof. With the Live Monitoring feature, users will also be able to monitor the real-time PM2.5 levels of their property.

*Sentry is designed for direct detection of smoke within the monitored space.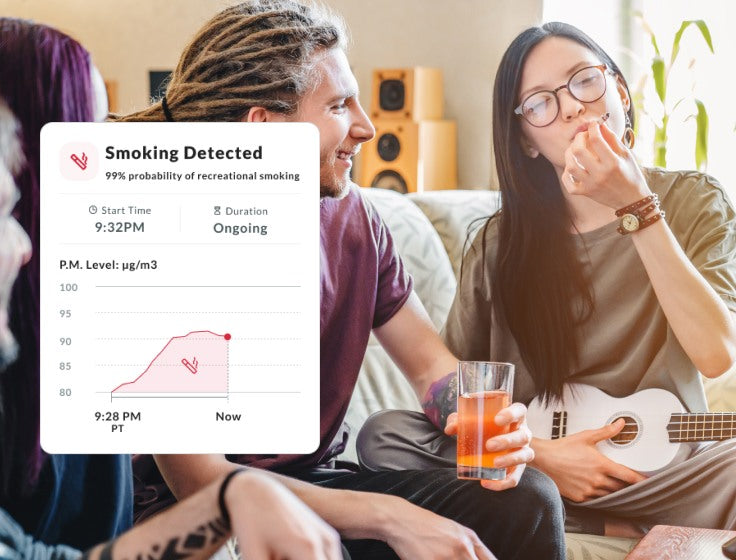 Noise Detection
Sentry detects noise levels and alerts users in real-time. The device's noise detection feature is designed to help users monitor and maintain a healthy acoustic environment in their rental properties, hotels, or any other indoor spaces.
Live Monitoring
WYND's Sentry now features real-time device monitoring to provide continuous monitoring and protection of indoor air quality. This new feature allows users to monitor the noise levels (in dB) and fine particulate matter (PM2.5) levels in real-time, helping them maintain a healthy indoor environment.
Incident Reports
Incident reports are designed to help users monitor and maintain the smoke and noise levels of their properties. Whenever Sentry detects an incident such as recreational smoke or excessive noise, it records the time and duration of the event, and generates an incident report.
Tamper Protection and Alerts
Sentry's tamper protection feature ensures continuous monitoring of your property. Users will receive alerts when the device is unplugged or loses internet connection, allowing them to take appropriate action.
Log into multiple devices
The Wynd Sentry app can be logged into several devices for one account. This way, anyone that has the account logged into the app will have access to Live Monitoring, Incident Reports, and Device settings.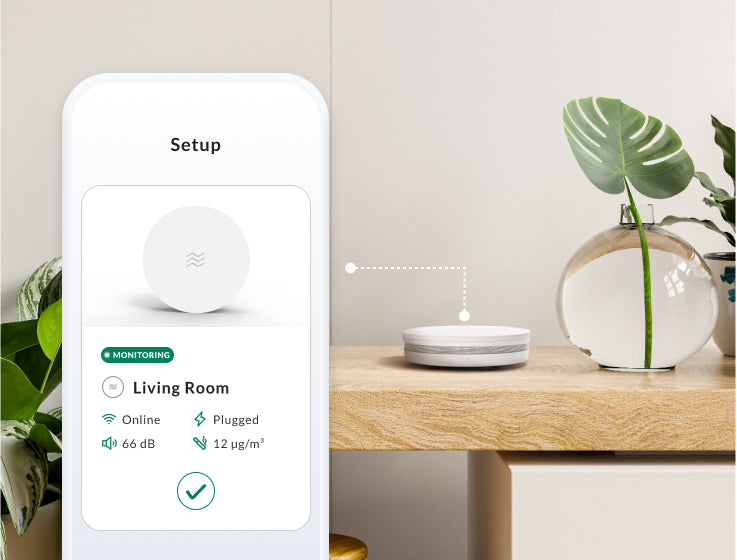 Real-Life Example of Washington Airbnb Owner Upgraded to Superhost Status After Using Sentry
Airbnb Property Owner
airID Technology
We've invested 10 years of research & development to develop airID - a breakthrough technology that can accurately detect and identify air particles.

With airID, Sentry uses AI to provide real time insights into what's in the air and immediately inform homeowners of any potential smoking incidents.
What are experts saying about Sentry?
Choose Your Plan
30 Day Satisfaction Guarantee
Available in USA & Canada
Free U.S. Shipping
Free Sentry Device (limited time offer)
Subscription begins upon device activation
Save 21%
Best Value
Annual
billed $180 annually
Monthly
12 months minimum
Experience peace of mind with our 30-Day Risk-Free Trial
Test Sentry risk-free. If it doesn't meet your needs within the initial 30 days, we'll happily refund your Sentry device(s) and subscription(s).
Are you a host or property manager of 5+ properties? We can have a member of our team reach out to you.
Technical Specifications
Requirements
Specifications
What's Included
Power Source
Membership
Sentry is a subscription based product. We currently offer both annual and monthly subscription options, with a minimum one year subscription.
Power Connection
Sentry requires a continuous power source. In the event of the device being disconnected, Sentry has a rechargeable battery that lasts up to 48 hours to continue monitoring your property.
Wi-Fi® internet connection
Sentry requires Wi-Fi internet connection to work as it sends real-time updates and notifications to users through the internet.
WYND Sentry
Instructions
USB-C cord & AC adapter
Mounting hardware
USB-C for regular usage
Rechargeable battery for tamper detection only (48 hours)
FAQ
Is Sentry iOS and Android compatible?
The WYND Sentry App is compatible with both iOS and Android devices. Please download the Sentry app on the App Store.
Do you have an affiliate program?
What types of smoke does Sentry detect?
Sentry detects cigarette, marijuana, cigar, and vape.
Note: Sentry alerts do not specify which type of recreational smoke is occurring. It tells you if someone is smoking recreationally and time stamps the incident to provide proof.
How is this different from a normal smoke detector?
A normal smoke detector can't tell the difference between cooking/candle smoke verses recreational smoke such as cigarette, cigar, marijuana, and vaping. Sentry will give you an alert and a report when someone smokes in your property, so you can ask them to stop and/or file a claim.

Note: Sentry is not intended to replace your traditional smoke detector.
Can the device listen to my conversations?
Sentry protects yours and your guests' privacy and cannot listen to your conversations. Sentry only measures noise levels and it does not store any sound data or transmit sound data to the cloud.
Who gets notified when guests are too loud?
Whoever installs the Sentry mobile app and enables sentry on their account. You can enable notifications for App notifications, SMS notifications, and/or email notifications.
How many do I need for my property?
Generally, one Sentry per contiguous indoor space you'd like to monitor. Sentry can detect smoke ~30ft away within minutes of the incident happening.
How sensitive are the smoke sensors?
Can they detect smoke from neighbors, on guests clothes that come onto the property, or if someone smokes out of a window while inside?

Sentry is designed for direct detection of recreational smoke within the monitored space.
How much space will the tamper device covering take up over the plug & outlet?
It will only cover the one outlet where the Sentry is plugged in. It will not cover/interfere with the second outlet in a double outlet socket.
Why is there one subscription per a Sentry device?
The subscription charge is for monitoring, app development and constant improvements. Each device monitors a space where it is placed, independent of others either in the same or another property. Each device requires a subscription.
Sentry return policy
Try a Sentry device with our 30-day risk free trial to determine if it's right for you. Receive a full refund on your Sentry device(s) and subscription(s) within 30 days of the subscription activation date, or purchase date. All you have to do is pay for return shipping.* Refunds cannot be processed once the risk free trial is over. To cancel the continued subscription, please contact sentry_support@hellowynd.com.
Other troubleshooting questions?